Last Updated on December 8, 2022
Not everyone enjoys reading. In certain situations, reading isn't viable and can take up a lot of your time. For example, you can't read while driving, and please never try this to prove a point. So what if you need to read a particular document but don't have the time?
This is where text-to-speech software comes into play.
With these apps, reading won't need to take up much of your time. Instead of forcing yourself to read, you can use these tools and let an app read aloud any documentation, articles, or even books you need to finish.
This means you can now multitask without putting yourself in dangerous situations, allowing you to be productive, even when doing mundane errands such as grocery shopping or cleaning the house.
However, hundreds of text-to-speech software are available now, and finding the right one will require time and effort. I know how busy you are, so I went ahead and found the best ones that fit every need.
In this article, I will list the best text-to-speech (TTS) apps, both free and paid, how this technology works, and why you should start using one.
*Spoiler Alert* If you're looking for the best text-to-speech software to increase your productivity and help you with your day-to-day tasks, then my top recommendations are Murf.ai and Play.ht.
Ready? Let's fly!
Disclaimer: Some of the links in this article may be affiliate links, which can compensate me (at no cost to you – but will buy me a cup of coffee) if you purchase a paid plan. These are products I've personally used and stand behind. For more information, you can read our affiliate disclosure here.
What are the Best Text-to-Speech Apps?
Best For Natural Sounding Speech.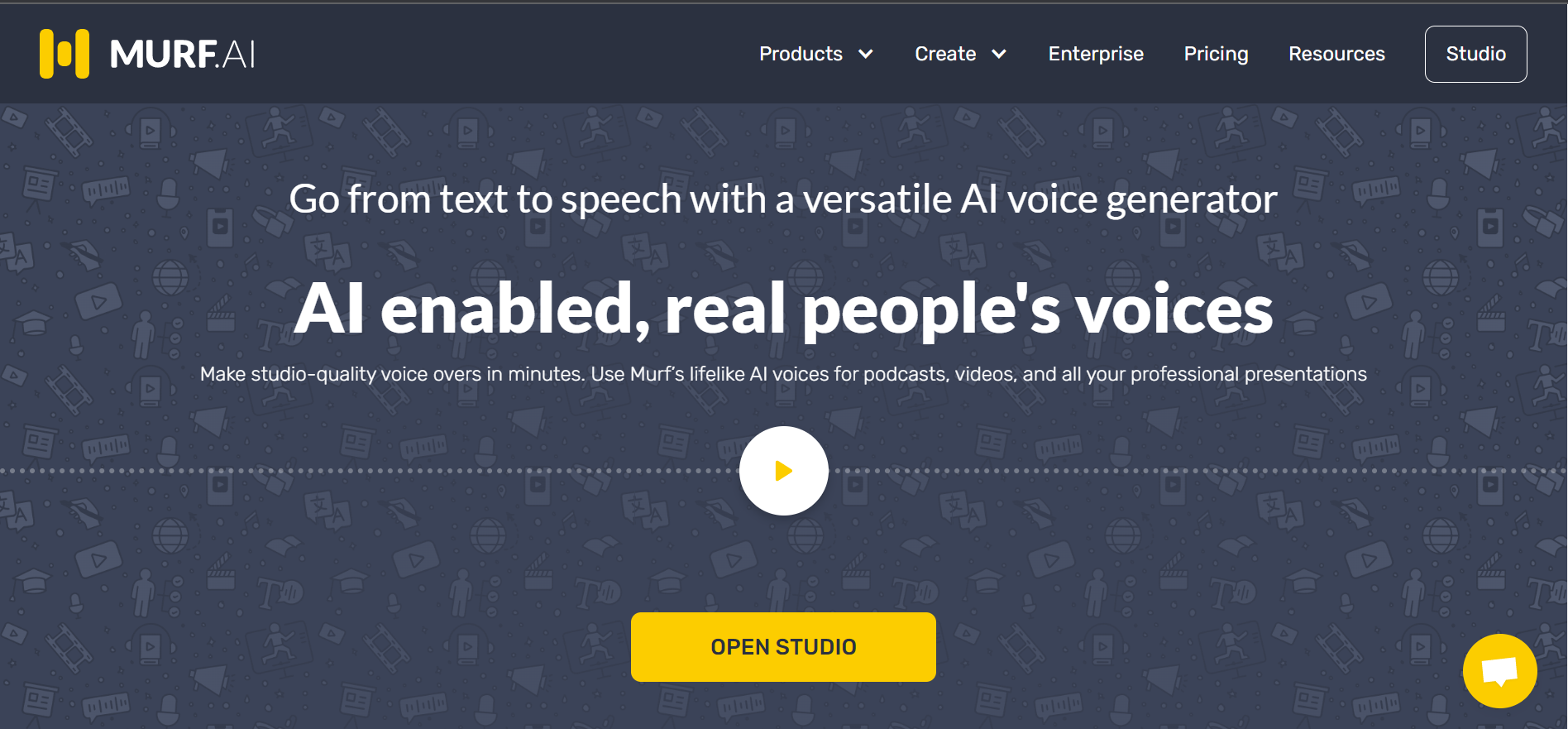 One common problem with text-to-speech software is that they produce hilarious-sounding audio that is difficult to take seriously. This can be a problem, especially if you're listening to an important document.
Thankfully, Murf.ai addresses this problem with its AI-generated text-to-speech tool that uses voice synthesis technology to generate real people's voices. With this app, you can make studio-quality voiceovers in just a few minutes.
Key Features
Turn text into natural-sounding voices using a versatile AI voice generator that can be used in various content, including podcasts, presentations, advertisements, e-learning, and more.
Create different characters with over 120+ text-to-speech voices to choose from and are available in 20+ foreign languages
It has a voice maker that allows you to upload various content such as images, videos, and music and sync them with the voice of your choice.
Allows you to play with pitch, punctuation, and emphasis to make the AI voices carry the message the way you want it to.
Pros
Natural-sounding voices with numerous characters to choose from.
Available for commercial use.
Built-in voice maker to easily manipulate the audio on how you want it to sound.
Allows you to add an image, video, or background music over the generated audio files.
Cons
The free version won't allow you to download the generated audio file.
Pricing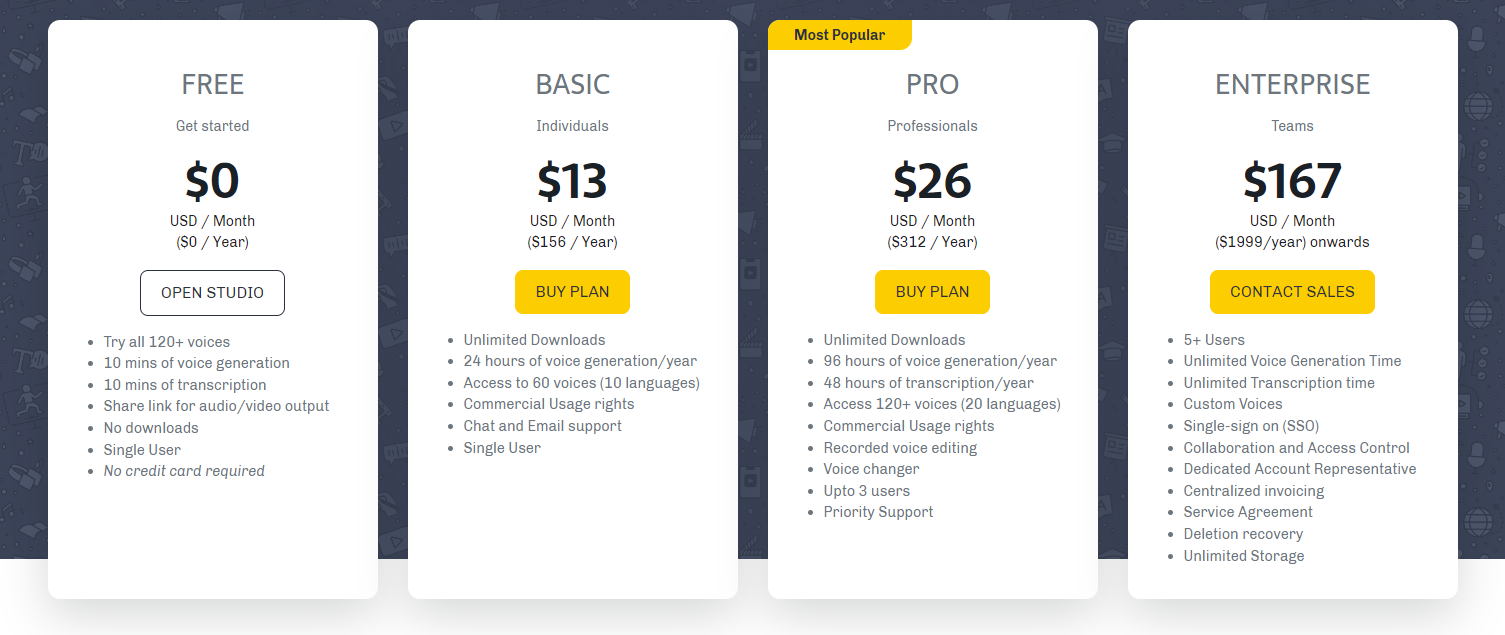 Murf.ai offers four different plans, depending on what you need. If you only want to see what this tool can offer, the free version can give you a glimpse of its features. However, it only comes with 10 mins of voice generation and transcription.
The Basic, Pro, and Enterprise plan is perfect for you if you need to convert text to speech to use commercially.
The company also offers a one-time pack that allows you to access 60 different AI voices with 30 minutes of voice generation plus all the Basic plan features for only $9 with no expiration.
---
Best For Real-Time Text-to-Speech Conversion.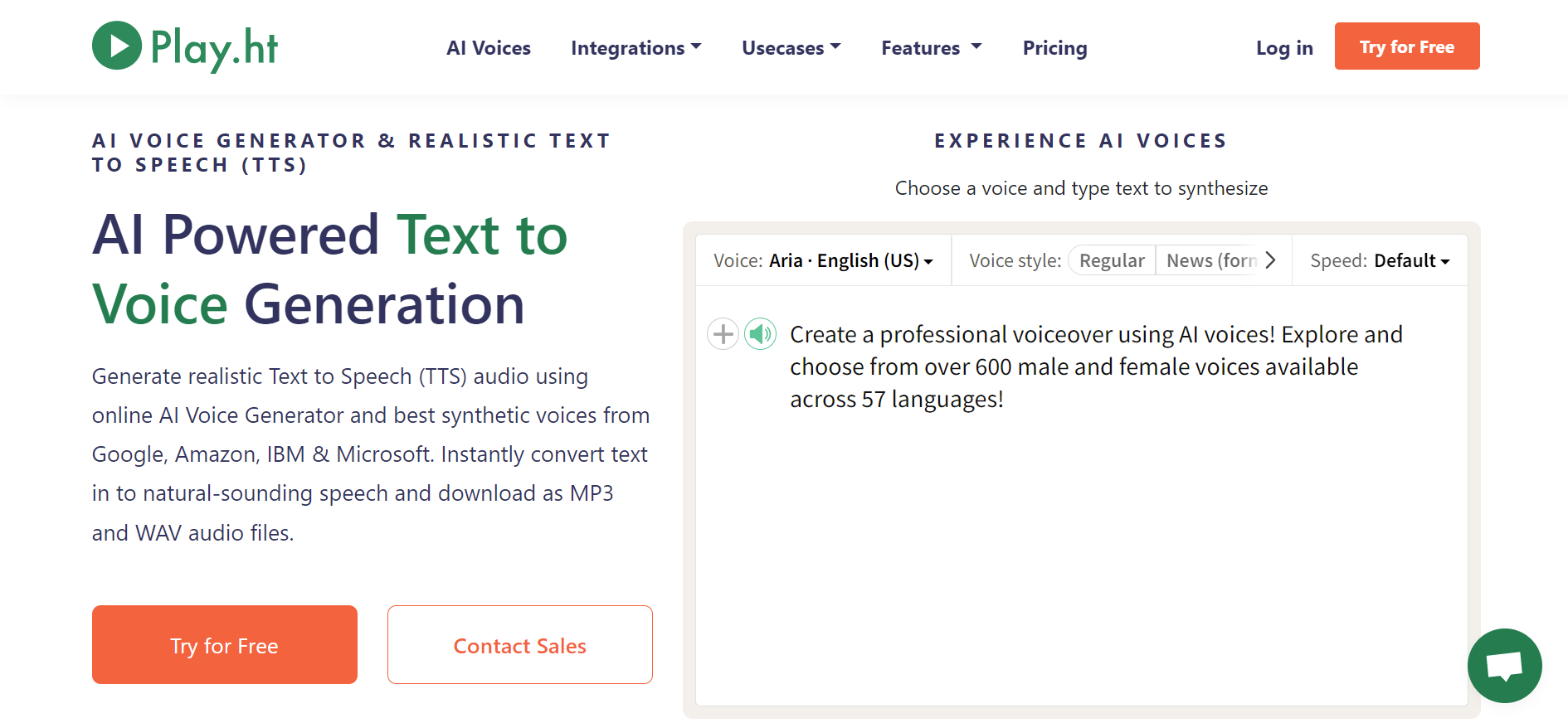 If you want plenty of voice options, Play.ht is the one for you. It generates realistic voices using AI technology perfect for different uses, including podcasts, videos, and other content that requires voiceovers.
One of the best text-to-speech solutions available, this tool enables users to generate audio within minutes through its easy-to-use interface.
Key Features
Comes with a growing library of 832 natural-sounding voices available in 132 languages and accents
Has different speech styles that use expressive emotional speaking styles to create custom voice
Cloud-based storage to securely store your generated audio files
Allows to create conversation-like voiceovers by using different voices for sentences in the same audio file
Pros
Allows you to customize the pitch, emphasis, fine-tune rate, and pauses to generate a more realistic voice tone.
Lets you define how specific words are pronounced and allows you to re-use these pronunciations when synthesizing the speech.
Has a preview mode, where you can listen to the file before converting text to speech.
Cons
Some non-English voices have inconsistent voice quality.
Pricing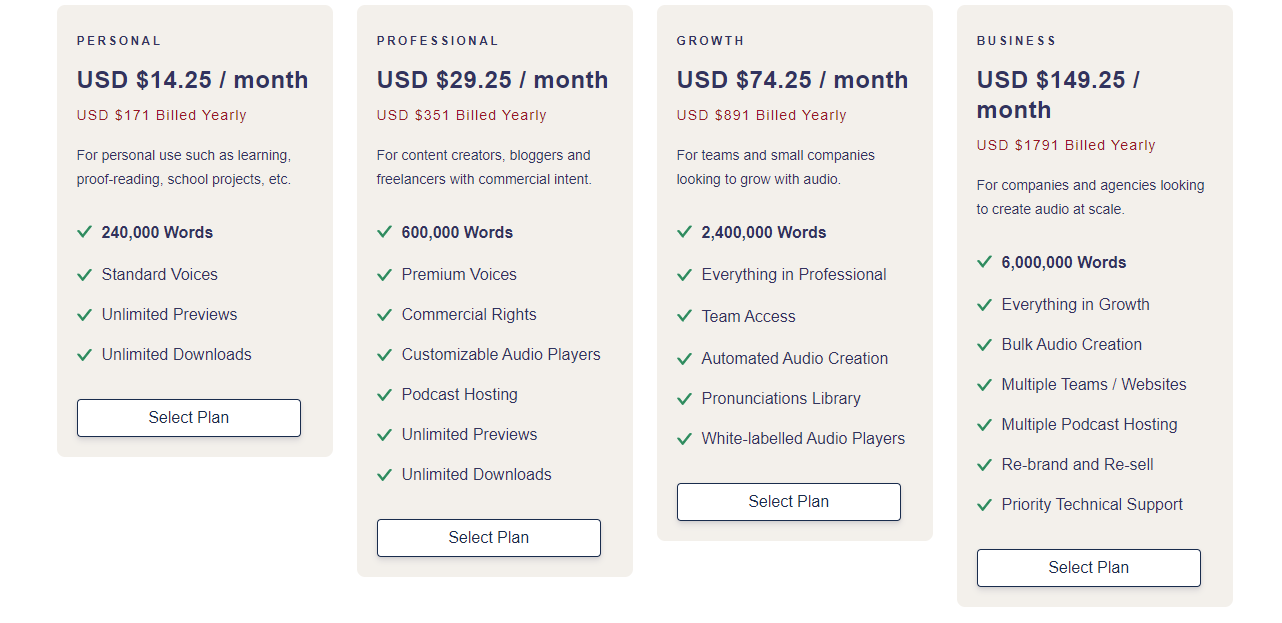 This text-to-speech software has four plans that offer various features for every type of user. However, the cheapest plan is for personal use only, such as for school projects and learning.
If you want to use your generated speech online, you need to subscribe to its Professional, Growth, or Business plan which starts at $14.25 per month.
There's also a free trial available if you want to try it out before subscribing to a plan.
---
Best For Commercial Use.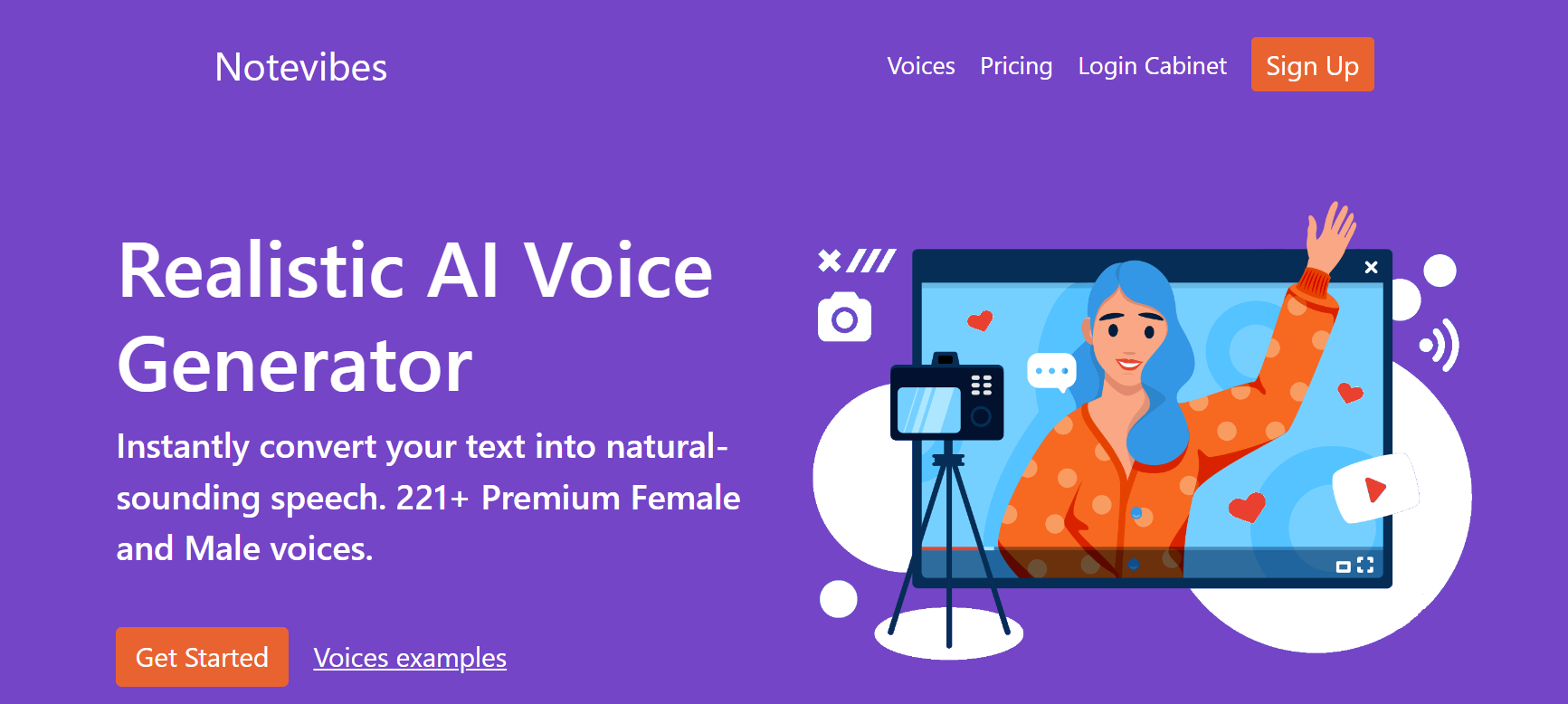 If you need to convert text to speech without needing an audio file, Notevibes is the perfect app. It's a website tool that offers a free read-aloud feature that lets you convert up to 300 words of text to speech in just a few clicks.
It also offers a paid version that allows you to access features like MP3 download and an advanced voice editor.
Key Features
Has up to 50,000,000 characters per year, with 225+ voices available
Allows you to convert written text to speech in up to 25 languages
Comes with a free natural reader you can use any time you need to read aloud texts
Up to 10 users per account
Pros
Audio files can be downloaded in MP3 and WAV file formats.
You 100% own intellectual property for all files.
Comes with a built-in editor on higher plans.
Cons
The personal plan doesn't come with a built-in voice editor.
Price is more expensive compared to other TTS voice website apps.
Pricing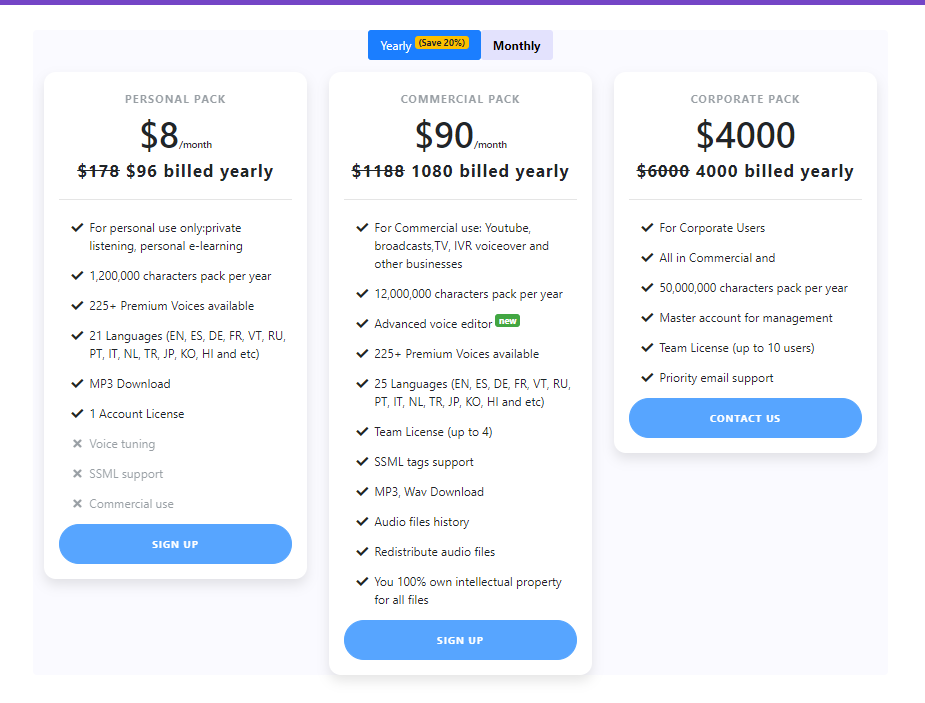 The Personal plan is only $8 per month but only allows you to use the audio files for personal use, such as individual e-learning and listening. The Business plan is a good choice if you need something for commercial use; however, it's more expensive than other apps.
It also comes with a free tool you can use from the website that lets you convert up to 300 words to speech in an instant.
---
Best For Content Creators.

Getting that emotional touch on TTS-generated audio may seem impossible, but not with Lovo. It allows you to create custom voices depending on your target audience that are natural sounding. Listeners will be surprised to learn that your audio comes from an AI voice instead of a real person.
It also has a speech synthesis technology that can convert text files into audio content in just a few minutes.
Key Features
Has over 180+ voices in 33 languages to choose from, so you can find the best voice that fits your content type and tone.
Two options to input your text on the app: by typing and uploading a text file
Allows you to create a custom voice to generate a natural-sounding speech
Lets you add emphases to worse, change tempo, and play around with pauses to create a more emotional, livelier, and natural voice.
Cloud-based storage to easily access your audio files whenever you want
Pros
Unlimited text-to-speech conversions.
Can be a natural reader if you need someone to read some texts aloud.
Custom voice creation so you can make the right voice for your brand.
Has an API you can use for your own app or games.
Cons
Limited downloads per month.
Price is a bit higher compared to other text-to-speech software.
Pricing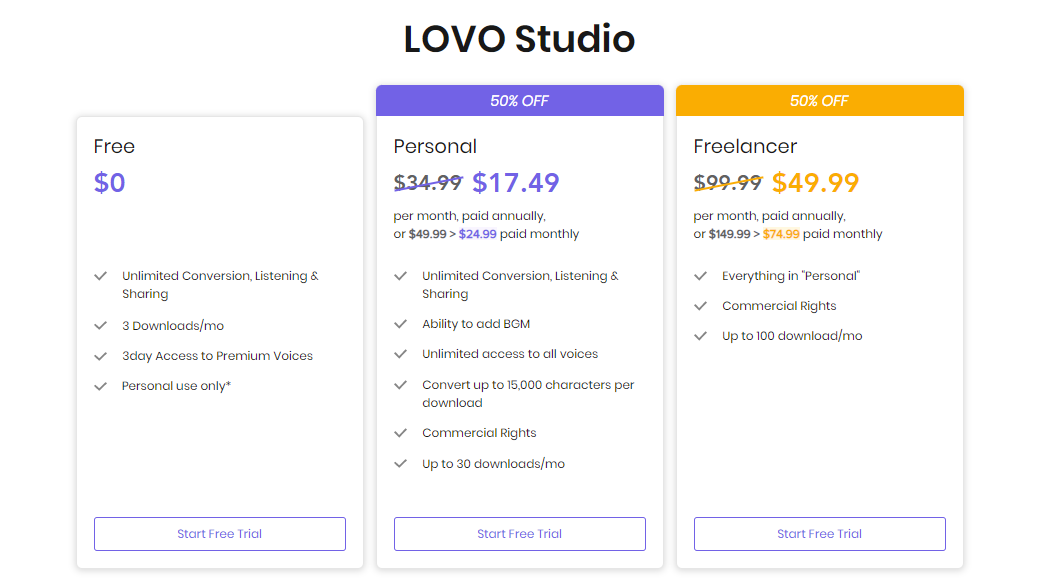 The free tier lets you download up to 3 audio files per month. However, the audio file for this plan is only for personal use. The Personal and Freelancer plans are for you if you want commercial rights. You can also get a significant discount if you subscribe yearly instead of monthly.
---
Best For App and Web Developers.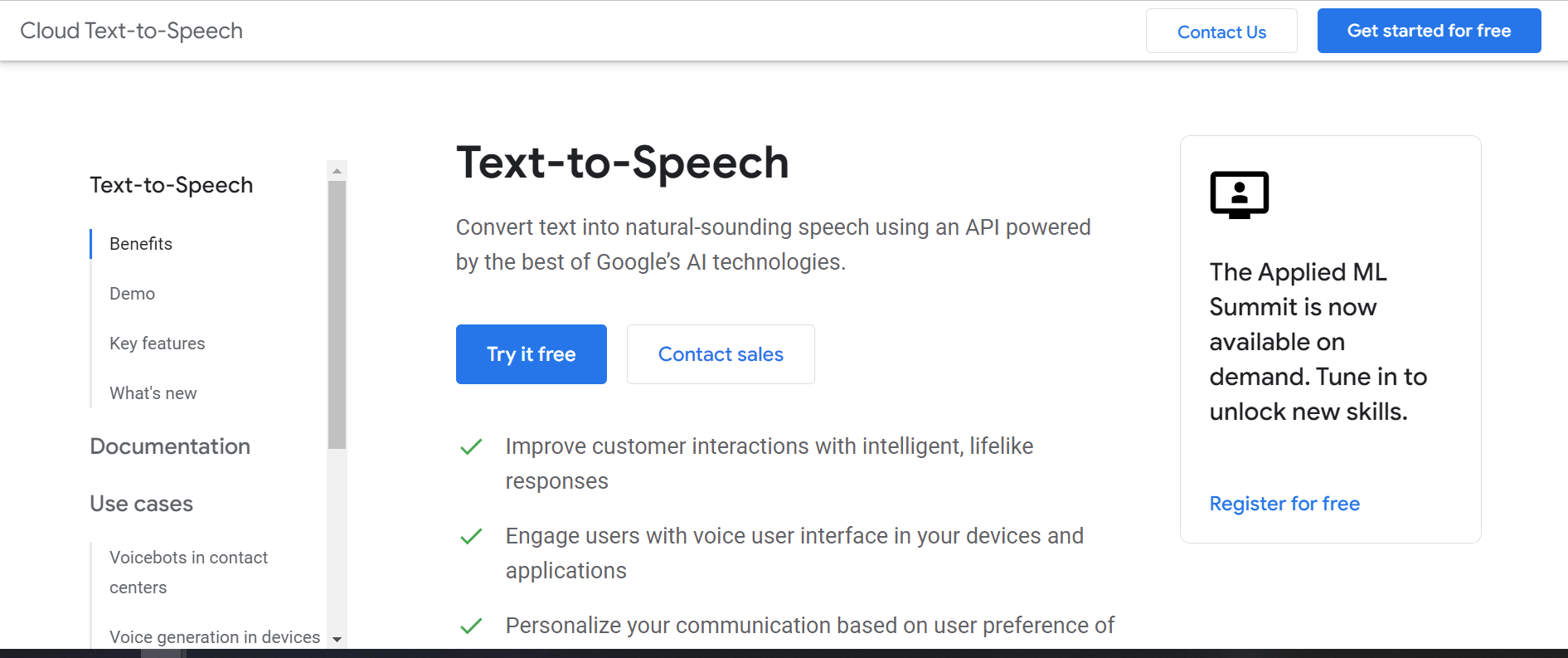 Are you a developer looking for speech synthesis technology for your new project? The Google Text-to-Speech API is the one for you. Powered by Google Cloud, it allows you to deploy text-to-speech features on whatever app or website you're working for.
It also uses deep learning to create a natural-sounding voice that will add value to your project and attract more users to your platform.
Key Features
Allows you to train a custom voice model using your own recording to create natural-sounding voices for your app
Lets you choose the voice profile perfect for your brand and adjust it without needing to record new texts.
Has 90+ WaveNet voices built using DeepMind's groundbreaking research
Option to personalize the pitch of your selected voice and speaking rate up to 4X faster or slower than the average rate
Pros
Easily integrates with any app or device.
Flexibility in the audio format output.
Has an option for your to optimize your audio depending on the speaker from which your audio will play.
Cons
Only available as an API.
Pricing
The Google Text-to-Speech is priced depending on the number of characters per month sent to the speech synthesis solution. For WaveNet voices, users get the first 1 million characters free.
On the other hand, the first 4 million characters for non-WaveNet voices are free per month. After you've reached the free tier, the Google text-to-speech API is priced per 1 million characters of text synthesized.
---
Best For Online Reading.
If you're looking for text-to-speech software for reading your favorite books, articles, documents, and other text files, NaturalReader is the ideal choice. It offers a web app and software to choose what device you want to listen to.
It also offers features for users with dyslexia to help make reading easier for them. It also comes with a free version. So, if you don't need to convert a lot of text to speech, you won't need to spend money.
Key Features
Has 100+ natural-sounding voices available in 16 different languages
Explicitly made for users with dyslexia as a reading aid.
Allows you to add a bookmark to save your place so you can continue reading later
Lets you correct pronunciations of any word in any language.
Pros
Allows you to read using your phone or computer.
With Chrome extension for easy access to the app.
Supports multiple text file formats.
Cons
Not intended for commercial use.
Pricing
NaturalReader offers two types of apps: a web app and software.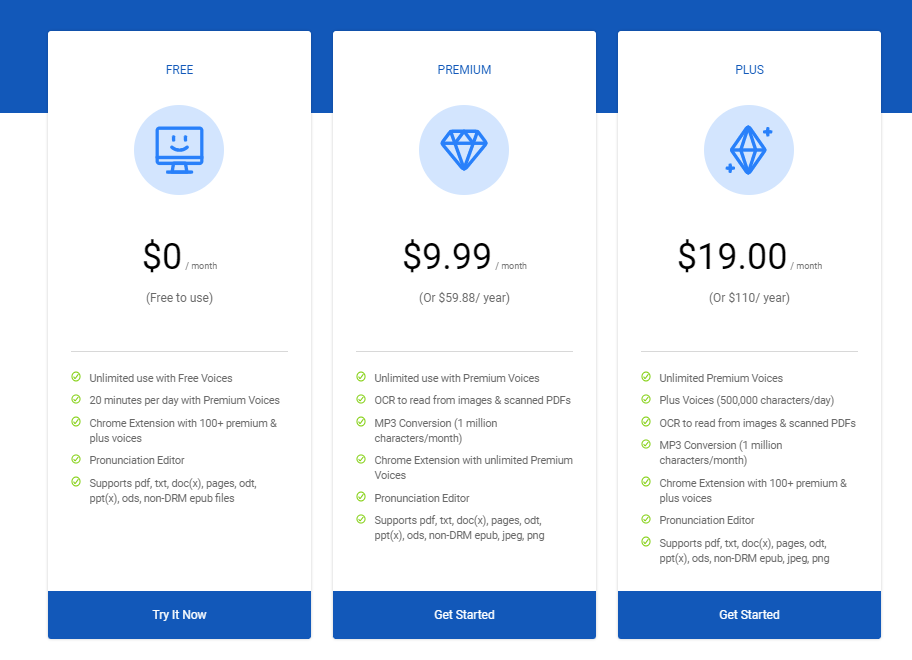 For the online app, the free version lets you convert 20 minutes of text to speech per day with a pronunciation editor and can read various text file formats.
To convert the speech to an MP3 audio file, you need to subscribe to the Premium plan for $9..9 per month. The Plus plan is the best choice for those who need more characters to convert longer texts.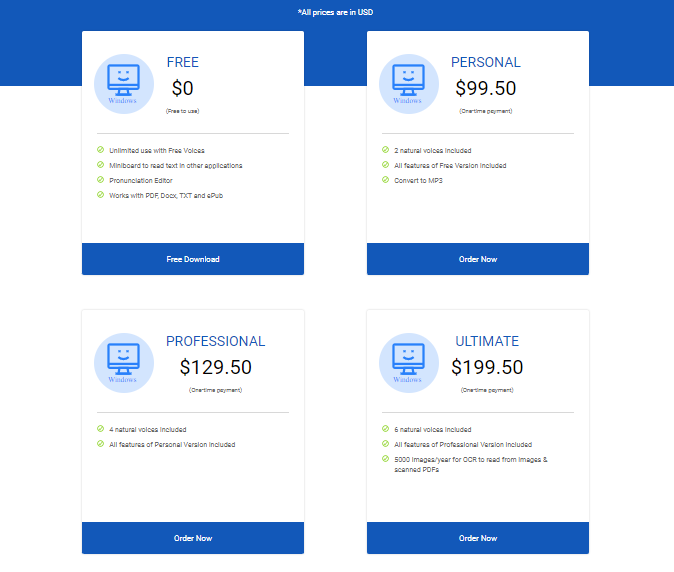 The software is available on Mac and Windows OS. It has a free version that allows you to convert unlimited text to speech anytime using the free voices.
You can buy the Personal, Professional, and Ultimate versions if you want to use premium voices and convert the speech to an audio file.
Unlike the web app, you only need to pay once for lifetime access to the software.
---
Best Free Text-to-Speech Tool.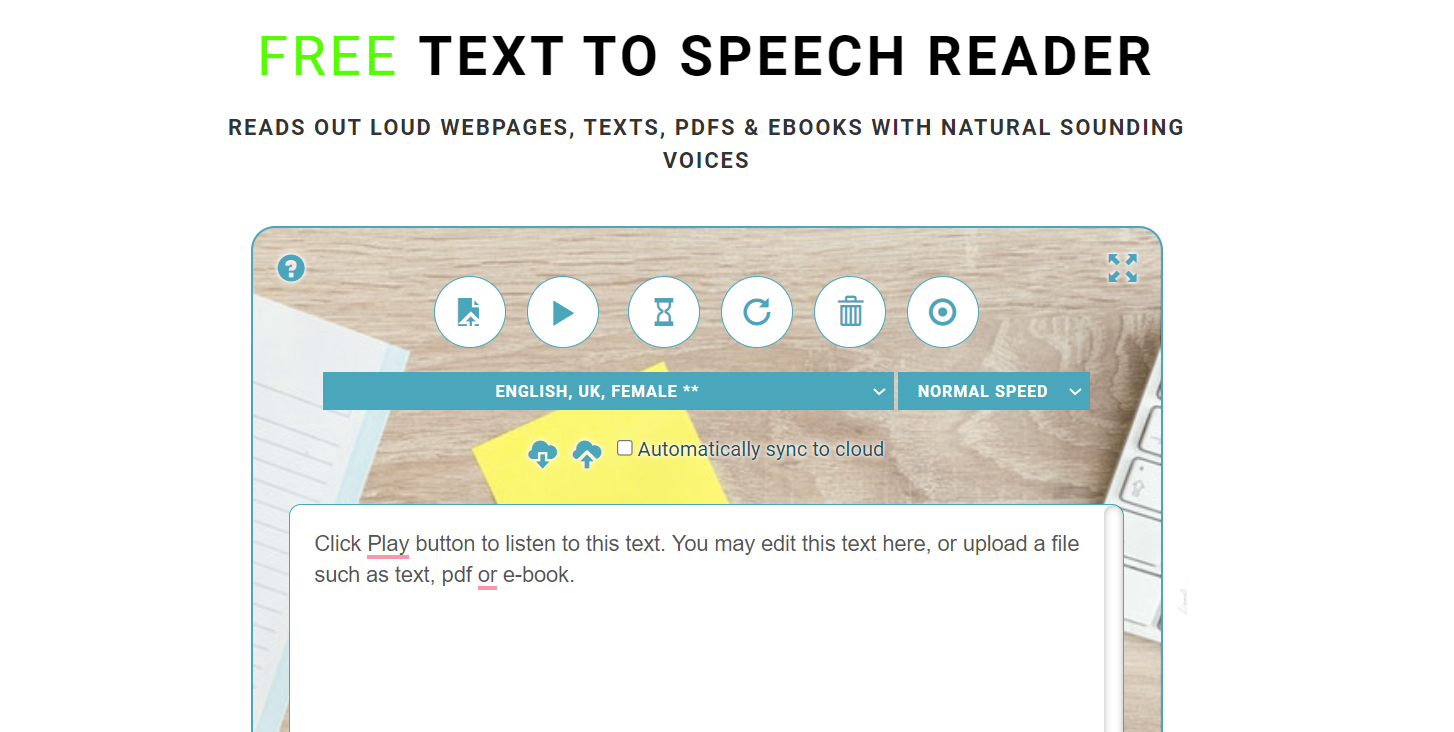 Do you need help reading web pages and other text files but don't want to invest in an app yet? TTSReader is the online app for you. The web tool is relatively straightforward; everything you need is already on the homepage. All you have to do is paste your text, and you're good to go.
Key Features
Supports all modern browsers, including Chrome, Safari, and Firefox
Allows you to drag, drop and play text files, paste a webpage or Wikipedia article, and copy and paste text to convert them into speech
Lets you export audio files if you need to, using a premium token that you can buy on demand.
Pros
Remembers the article you're reading and the last position you're in, allowing you to come back to it even if you close your browser.
Allows you directly paste a link for the tool to read aloud.
Available as a web app with no logins, download, or account required, Chrome extension and Android mobile app.
Cons
Doesn't offer as much voice customization as other text-to-speech apps.
Pricing
TTSReader is entirely free to use anytime you want. However, if you need to export the speech to an audio file, you will need to purchase a premium token.
---
Text-to-Speech Apps FAQ
What is Text-to-Speech Software?
The TTS (text-to-speech) technology is an app that assists users in reading text out loud. Artificial intelligence generates the audio you listen to through these solutions, and users can control and customize the voice depending on their needs.
How Does Text-to-Speech Work?
Most text-to-speech tools allow users to upload a text file, copy and paste, or type in the text they want to convert. Once your text is in the app, users can select the voice they want to use for their needs.
Many of this software is powered by OCR (Optical Character Recognition) technology that can recognize written and digital text from documents and images. Depending on your tool, this can be through AI or deep learning.
Why Use a Text-to-Speech App?
The text-to-speech app can support various uses ranging from learning, and productivity, to content creation. Here are some of the most notable benefits:
• Helps users create voiceovers for e-learning slides, presentations, and more.
• Allows students to extract audio versions of their course material for students who struggle with reading comprehension or are visually impaired.
• Users can use radio files for various content, including YouTube videos, podcasts, and ads.
• Accessibility for dyslexic, visually impaired, and other people struggling with reading.
• Can help make your work efficient by converting long documents to speech for easy listening.
• Lets developers add a text-to-speech feature to their apps.
So if you're ready to try one, my top recommendations are:
1. Murf.ai
2. Play.ht
Can I Use Amazon Polly For Free?
Yes, you can use Amazon Polly for free. When you sign up, Amazon gives you millions of characters to convert for free each month for the first 12 months.
---
Bottom Line
Text-to-speech apps can do wonders in your life. I used to think I wouldn't need them in my life, but once I started using them, I was surprised by how much time it freed up.
Instead of sitting and focusing on a hard-to-read document, I can paste them into one of these tools and listen to it while driving, running, or just relaxing on the couch.
If you don't want to invest in an app yet, try one of the free apps and see the difference it can make in your life. As an added alternative, you can give Voice Dream Reader or Amazon Polly a go and see how they match up.
Have you tried one before? How did it change your life? Let me know in the comment sections below!
It's time to be the pilot of your life and not just the passenger.
---
Chris Bournelis is a blogger, search engine optimization, and content marketing specialist. He has been working in the online business since 2015. Join him here at ChrisBournelis.com for the best SaaS reviews and tips to get the most out of your online business.