Last Updated on December 8, 2022
Having a business card can help you land your next client or customer. But in this age of technology, having a physical card may not be as beneficial as it used to be. Businesses have become borderless, with many of your potential clients living a thousand miles away from you.
So how can you share your business' information with them?
Enter digital business cards.
As the name implies, a digital business card, also known as an electronic business card, is a digital version of the traditional business card.
Remember those?
It contains all the necessary information about your business, such as contact details, social media profiles, company logo, and any other details you want to share with your prospects.
But with so many apps available, how can you find the best digital business card app perfect for your needs?
In this article, I will share the best digital business card apps, both free and paid. I'll also discuss why having one is essential and show you what elements you should consider when choosing a virtual business card app.
*Spoiler Alert* If you're looking for the best digital business card apps to create your electronic business card now, then my top recommendations are Beaconstac and Canva.
Ready? Let's fly!
Disclaimer: Some of the links in this article may be affiliate links, which can compensate me (at no cost to you – but will buy me a cup of coffee) if you purchase a paid plan. These are products I've personally used and stand behind. For more information, you can read our affiliate disclosure here.
What is the Best Digital Business Card App?
Below is my list of the top apps for creating virtual business cards.
Best for creating secure digital business cards.
One concern with publicly sharing digital business cards is the security of your information, particularly if you have anything sensitive. This is not a problem with Beaconstac.
This app ensures that any details you enter in their business card generator are protected and secure from malicious actors.
It even allows you to create business cards at scale, so if you're an enterprise that wants to create electronic business cards in bulk, you can, in just a few simple clicks.
Key Features
SOC-2 and GDPR compliant, ensuring your information is safe from unwanted hacks.
Create dynamic QR codes that allow you to update your contact information without changing your business card and QR codes.
Allows you to track the number of card scans and scans by time and location.
Provide reports on the top and worst performing digital business cards.
Easily integrate with existing tools and processes you follow.
Create up to 2,000 digital business cards from spreadsheets.
Generate multiple cards using your very own branded templates.
Digital Business Card: How to create one using QR Codes 📱 #DigitalBusinessCard #virtualbusinesscard
Pros
Easily connects to Google Analytics.
Generates QR codes that you can add to your physical business card.
Simple UI that's easy to navigate.
No need to generate new QR codes if you update your contact details.
Cons
The free version only allows you to generate a static QR code (information that can't be updated).
Pricing
Create and manage professional digital business cards for your team and track analytics with their 14-day free trial. Prices start from USD$5 per month after the trial ends.
---
Best for designing physical and digital business cards.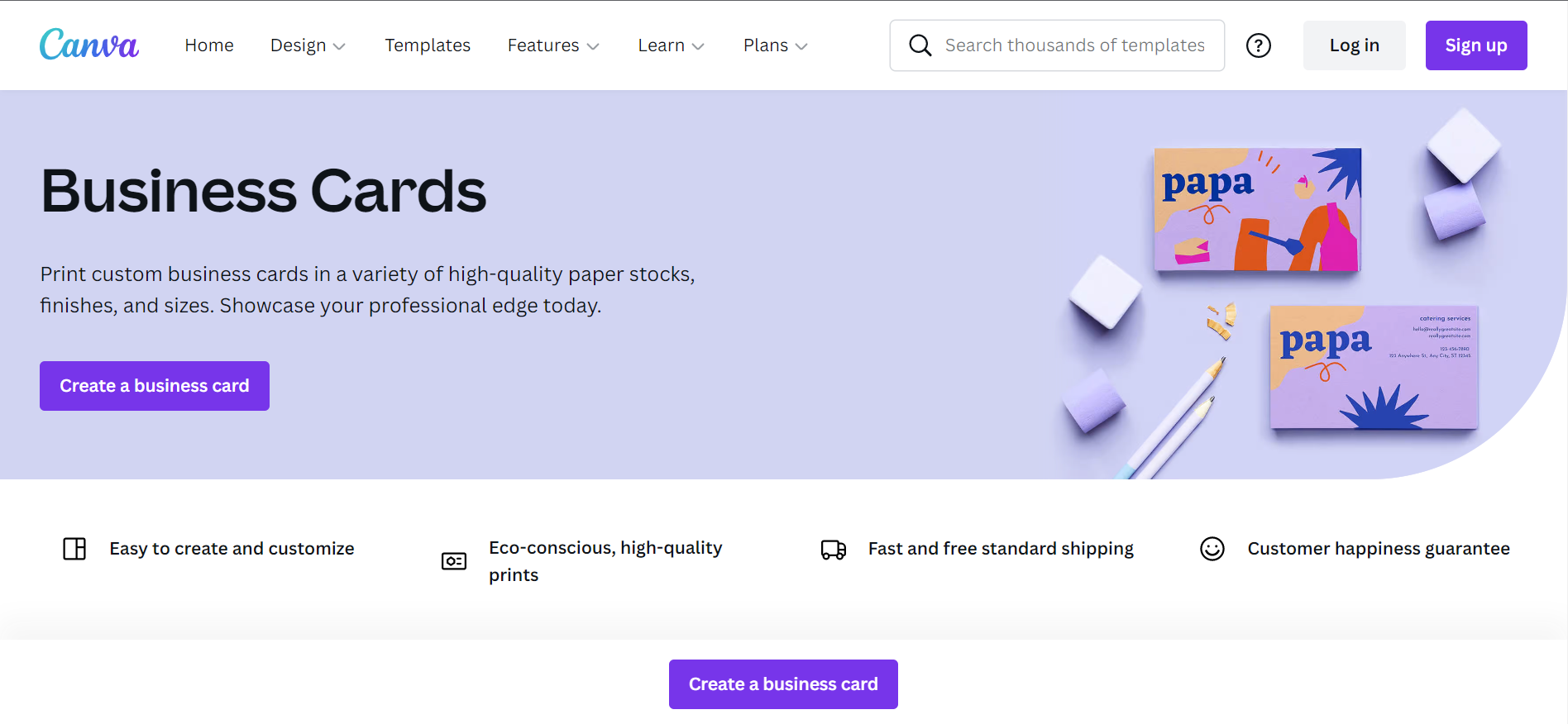 If you're looking for an app to help create and design a physical or digital business card, Canva is the one for you. It is a popular online design and publishing tool that allows you to create various content such as videos, presentations, posters, and of course, digital business cards.
This app also offers thousands of templates you can use to make a digital business card if designing is not your strongest suit. If you need paper business cards, you can also print them out directly from the app–no need to look for a printing solution.
Key Features
Thousands of free digital business card templates.
Access to an entire library of millions of icons, graphics, images, media elements, and more.
Allows you to collaborate with team members in real-time to edit and create digital business cards.
Easily share and export your cards in different formats.
Option to upload your electronic business card on business card sharing apps.
Print your digital business card straight from the app with eco-friendly and cost-effective paper cards.
Free standard shipping when you order a physical business card.
Pros
Create physical and digital business cards without needing to hire a graphic designer.
Unlimited formatting options.
Templates are organized by field of work and design.
Easily print your cards with free shipping to pro users.
Cons
Most of the designs are only available to paid users.
No way to print previous business card designs (assuming they're not designed on the app).
Pricing
There's a free version available that allows you to use many of the app's design and publishing tools. But if you want to access the pro designs, a subscription starts at $119.99 per year for 1 to 5 users (free for 30 days) and $30 per month for an enterprise plan (minimum of 25 people).
---
Best for organizing digital business cards.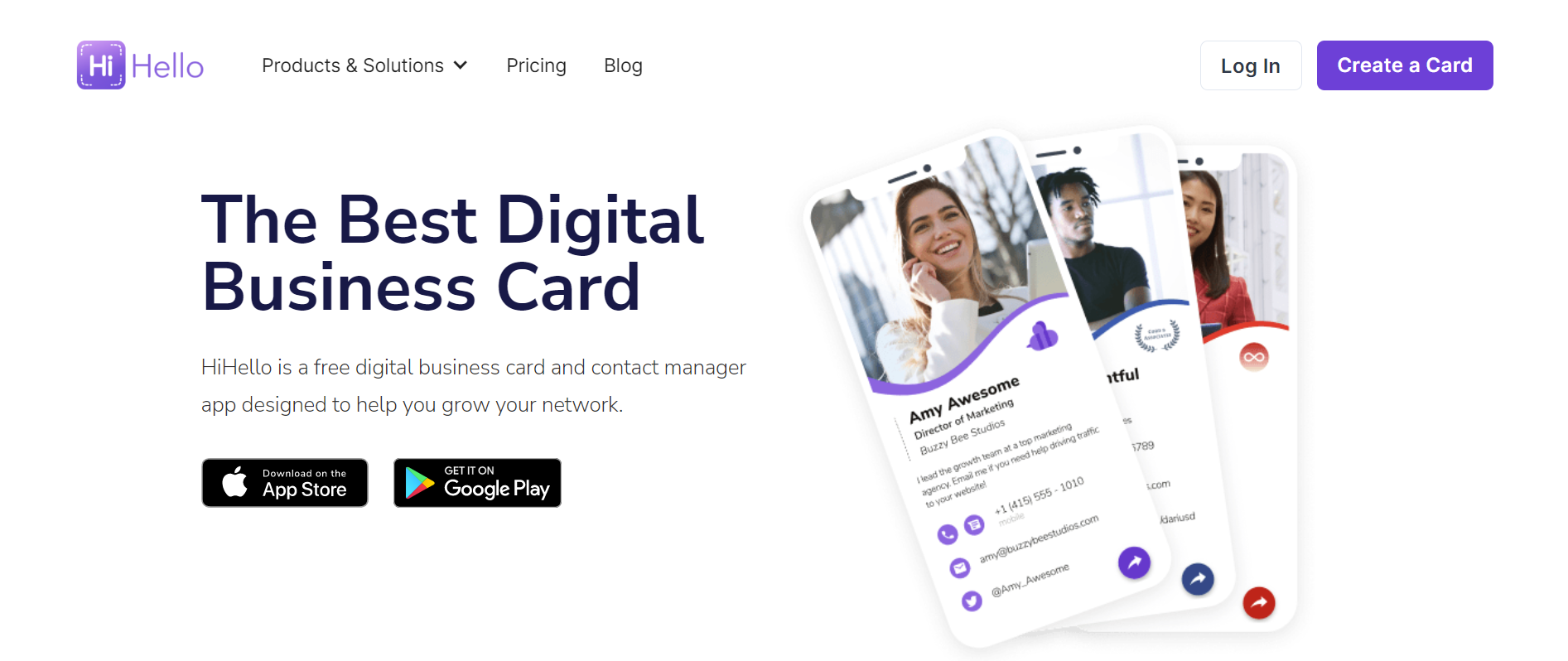 Are you looking for an all-in-one app that lets you create and organize digital business cards? HiHello is a digital business card and contact manager mobile app in one and is available for iOS and Android users.
This app allows you to share your digital business card with other HiHello users and even those who don't have the app.
It also lets you create professional-looking cards in just a few simple clicks with options to easily add contact information, social media links, and more.
Key Features
Easily create business cards in a few simple steps.
Share your business card using a QR code or send it via email, SMS, social media, and more.
Comes with a digital address book.
Has a business card scanner that turns paper business cards into digital business cards.
Allows you to add your digital business card's QR code to a virtual background of your choice, so you can use it when networking online when using Zoom, Google Meet, etc.
Generate email signatures that link back to your digital cards.
Pros
The free plan lets you create up to four digital business cards for yourself.
Allows for branded QR codes.
Plenty of customization options, including a range of colors and personalized URLs.
If you swap contact information with another HiHello user, their data will be updated in your address book if they update it.
Cons
Only available as a mobile app.
Pricing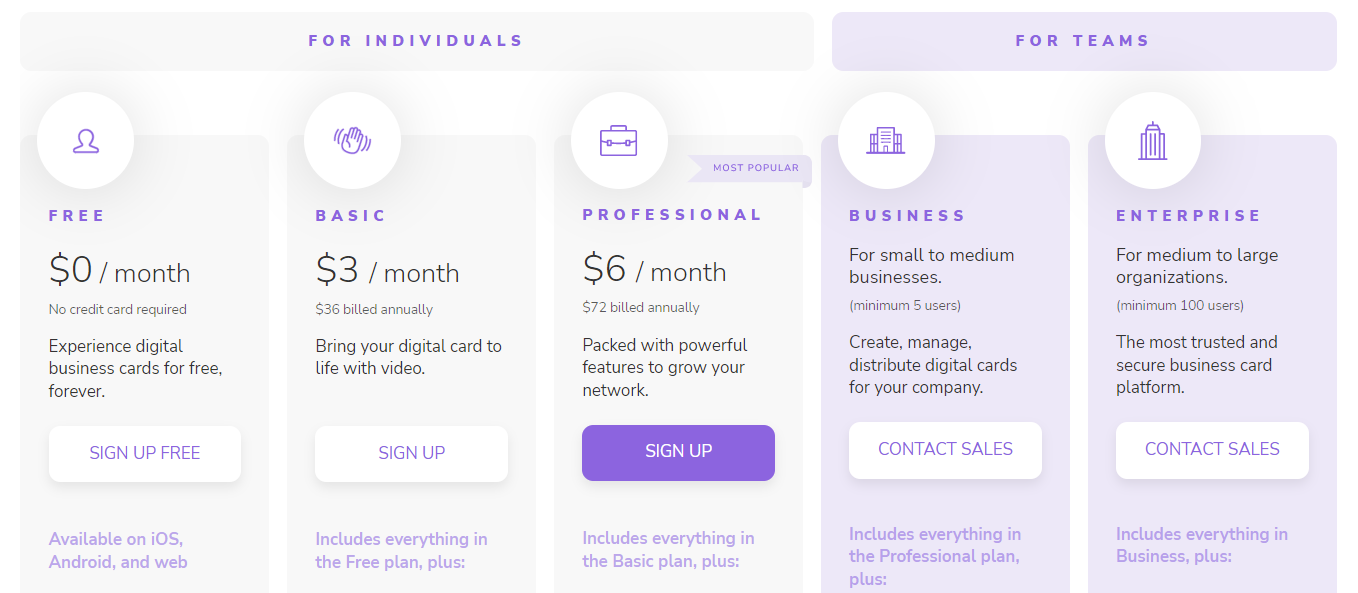 The free version lets you create up to four digital business cards. But if you want to create more than that, you can subscribe to the basic plan for only $6 a month. The basic plan also allows you to convert three paper business cards to digital cards, plus other features.
If you want more features like branded QR codes and CRM integration, the professional plan priced at $6 per month is for you. They also have business and enterprise plans for more prominent organizations.
---
Best for those on a budget.
Another digital business card creation tool on our list is Haystack. This no-frills digital card app comes with an easy-to-use interface that lets you share contact details easily to save time and effort.
This app also has analytics tools to track how many people have opened your digital card.
Key Features
Create digital business cards with different contact details, including images, links to whitepapers, social media links, phone numbers, company details, and more.
Can be integrated into other CRMs.
GDPR compliant and has an "A" rating by Qyalis, ensuring the security and privacy of your information.
Easy to share digital cards through a unique URL and QR code.
Comes with an Admin Dashboard that allows you to track the analytics of the card.
Pros
Integrations with major CRMs.
Lets you create a brand style for your company.
User-friendly app.
Cons
Built-in analytics tool only available on premium plans.
Pricing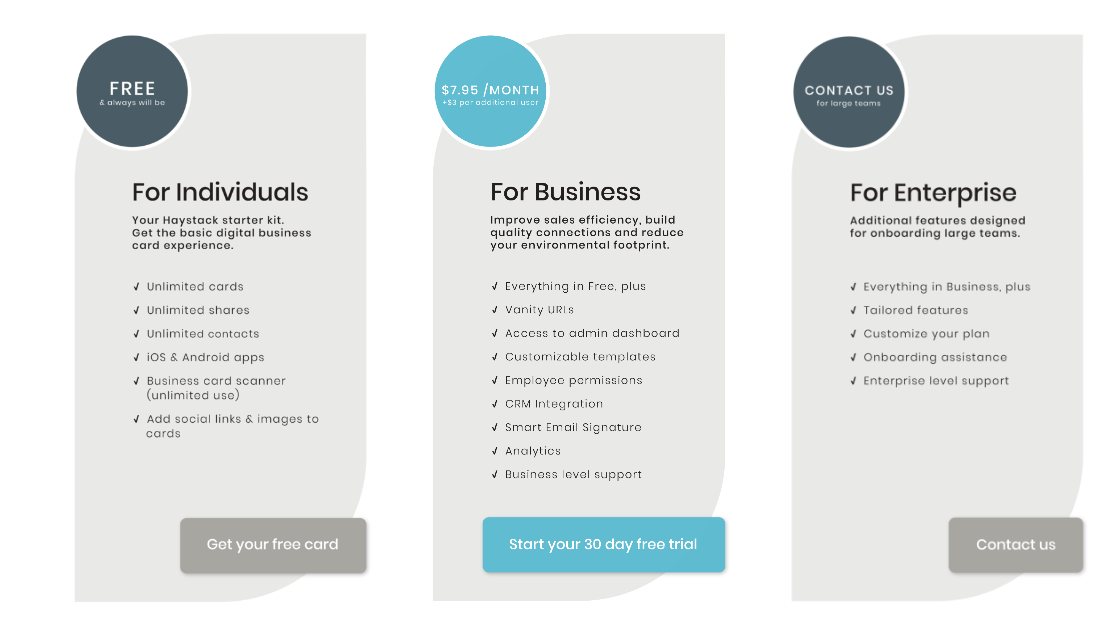 This business card app is totally free if you only need it for digital business card creation. However, if you need other features like email signatures, access to admin dashboards, and more, the business plan is priced at $7.95 a month, with a 30-day free trial.
---
Best for video digital business cards.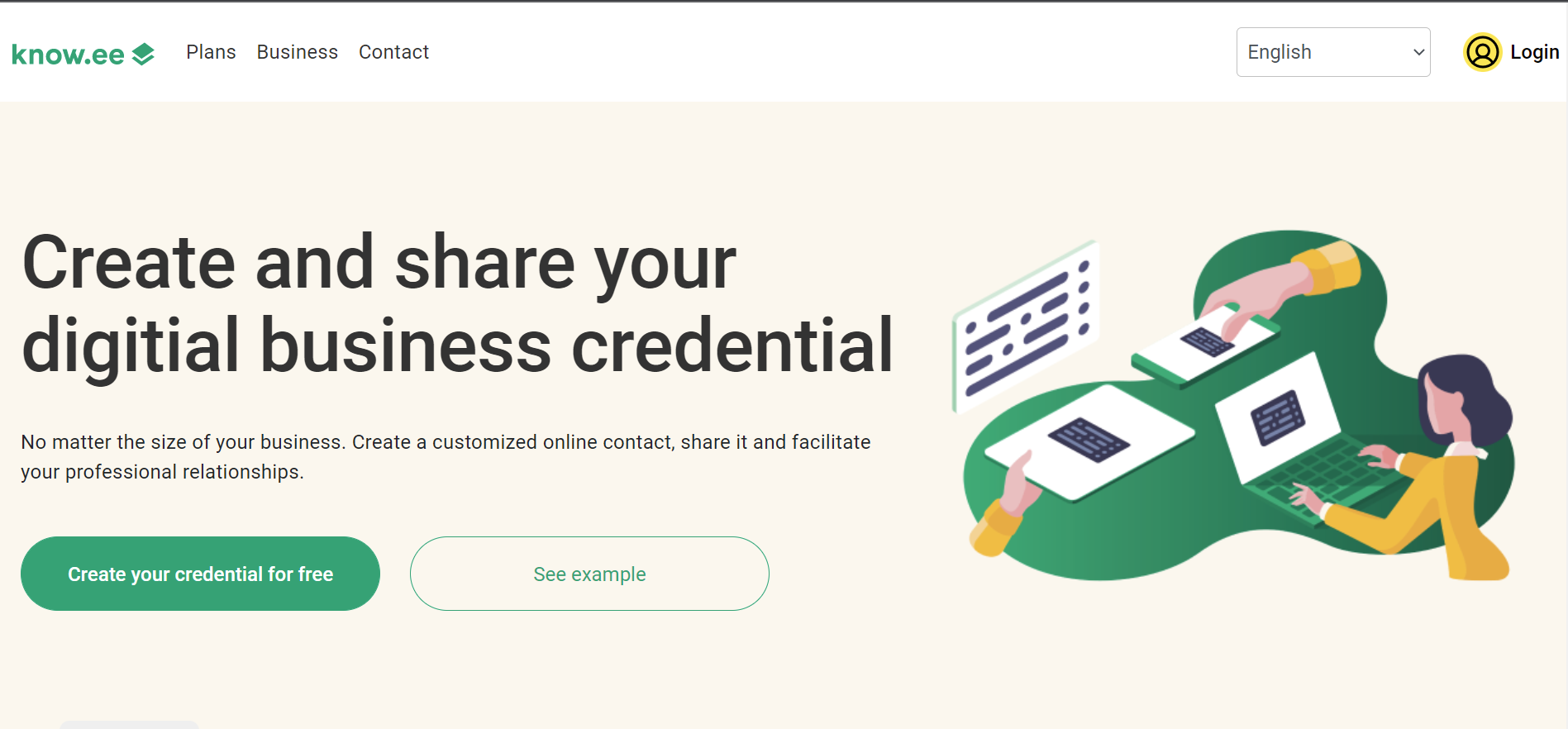 If you want to make an excellent first impression and stand out, add videos to your digital business card. Know.ee lets you add video content to your digital card (a step up from the old-style paper business card).
It also allows you to add necessary information to your electronic business cards, such as a phone number, website link, social media accounts, and more.
Key Features
Allows you to use your company's branding elements in your digital card.
Easily share digital business cards with anyone.
Option to add videos to your digital card.
Strictly complies with current data protection regulations, so you won't have to worry about your information.
Pros
The free plan is perfect for individuals.
Comes with a free, easy-to-use business card scanner.
Allows you to make unlimited cards with the free plan.
Cons
Complicated pricing structure.
Pricing

The team pack starts at $2.49 per user a month (originally priced in Euros, but the exchange rate is almost 1:1), which allows you to have centralized data management for your team. The business pro plan starts at $0.90 per user per month and comes with all the features.
---
Best for networking.

If you're looking for new ways to network, Kado Network is your app. Apart from being a digital business card app, it also comes with a networking solution that allows you to establish relationships with potential customers and turn them into deals.
This app allows you to share, receive, and organize digital cards, which is perfect for managing your address book.
Key Features
Comes with free templates to easily design your cards.
With a paper card scanner to store your contacts all in one place.
Integrates with LinkedIn, Gmail, and Outlook.
All in one contact management app to store all your digital cards.
Record notes in the app, with an option to link it with a specific person in your address book.
Pros
Allows you to manage notes, recordings, and more in one app.
Available in Google Play Store and Apple app store.
Syncs your contacts in your email and LinkedIn.
Cons
LinkedIn integration is only available in the most expensive plan.
Pricing

Kado Network has a free plan that allows you to sync your contacts from Gmail and Outlook and, of course, lets you create digital business cards. The Teams plan will cost you only $3.71 a month.
This plan enables you to make notes, share them with your team members, and add videos and personalized call-to-action to your card.
The Business plan is only $7.48 a month, with access to all the app's features.
---
Best for contact management.

While CamCard is not strictly a digital business card app, it's worth mentioning since most of the apps in this list don't have an address book organizer. This app allows you to exchange electronic business cards and capture paper cards to easily manage your contacts.
It also lets you add notations, set reminders, and tag specific cards with keywords to organize your contacts however you want.
Key Features
Allows you to scan a physical business card, and the app will store all the information.
Share your card easily for better networking.
Add tags, notes, and reminders to business cards for better organization.
Multi-language card reader.
Get notifications if your contacts update their information.
Pros
Perfect for networking events.
Allows you to organize your address book easily.
Batch scan paper business cards.
Cons
Need a separate digital business card app to create your own.
My recommendation is to use Canva to create a digital card and then upload it to CamCard.
Pricing
The app is free, but it comes with ads. If you don't mind the ads, you can continue using the free app. But you can remove the ads for only $46.99 per year.
---
Best Digital Card Apps FAQs
Why Should You Have a Digital Business Card?
If you have a physical business card then you might think having a digital one is unnecessary. After all, the paper card hasn't been really useful in the past years, so why waste time creating a virtual one, right?
While it may be true to some that physical cards don't have many benefits, their digital counterparts can offer so much more.
First, they don't take up physical space, so it's less likely for your potential customer to lose them.
You only need a smartphone, tablet, or computer to get started. If someone needs to contact you, all they have to do is access the card from their device–no need to rummage through your wallet to find a bent card to hand out.
Next, digital business cards are easily updated.
Unlike physical ones that need to be replaced if you change your phone number or any other contact details, digital business cards will automatically update your recipients' devices when you update yours.
They are also contactless and borderless. Since the coronavirus pandemic hit, many people have tried their best to minimize contact with others, especially those they just met.
With electronic business cards, you don't need to hand out anything. Just share your card, and you're all good. At the same time, you don't need to be physically present to share your information.
Even in a virtual event, you can easily give your card away through a QR code or a link.
They are also more affordable and eco-friendly. You don't need to print new paper cards all the time when you run out, making it more cost-effective too.
And once you've created one, you don't need to make another one, even if you switch company, position, or phone number.
Lastly, some digital business card apps allow you to track the engagement of your card. With paper cards, you have no idea what happens after you hand out the card.
But with digital ones, you can check how many people have viewed your card or even get a notification as soon as someone visits it.
What Should I Put in My Digital Business Card?
Your virtual business card should have all of these details:
1. Name and job title.
2. Company name, logo, and website.
3. Basic contact details like phone number, address (if you have a physical store or office), and email.
4. Social media links (Twitter, LinkedIn, Instagram, Facebook).
What Should I Look For in a Digital Business Card App?
When choosing the right digital business card app, there are many factors that you should consider, but here are the most crucial ones:
Customization: This is the most critical factor you need to consider. The digital business card app you choose should allow you to customize your card depending on your need. Can you add your company logo? How many phone numbers can you put in? Will it allow you to change the colors to match your brand identity? Remember, it's your card. So you need to be able to customize it to your preference. 
Shareability: The primary use of a digital card is to share your information with prospects. Find one that allows you to easily share it with anyone. It could be through a unique URL, QR code, or even a soft copy of the card. Find one that works for you. 
Tracking: The best part of having digital copies of anything is its ability to be measured. The same goes for digital cards. You need to find an app that allows you to track the cards you send to potential customers. If you know what's happening to your leads, you can efficiently strategize and make better decisions, which will benefit your sales. 
Security: You need to choose an app that offers excellent protection. When you create a digital business card, you're putting in information you don't freely give away. Obviously, you want those details safe and protected. An excellent digital business card app complies with data protection regulations, so you have peace of mind that your data is safe from malicious actors. 
And, of course, do your homework and research the app before you use them. You know your needs better than anyone, so your choice is what really matters.
But if you need help, then my recommendations are: 
1. Beaconstac.
2. Canva.
---
Bottom Line
While digital business cards won't magically turn your leads into clients, they can help you reach a much wider audience, especially today.
At the same time, many of these digital business card apps allow you to track your card's activity. This includes how many people had viewed your card, the location, and when they did it (a pretty good bit of technology, in my opinion).
If you have these details on hand then you can quickly formulate a strategy to help you close deals. Remember, what can be measured can be improved.
So if you're getting a lot of views but no calls or messages for some reason, then you know that something needs to be improved on your card.
Take advantage of all the innovations around you.
Share your digital business card below so my readers can contact you if they need your services!
It's time to be the pilot of your life and not just the passenger.
---
Chris Bournelis is a blogger, search engine optimization, and content marketing specialist. He has been working in the online business since 2015. Join him here at ChrisBournelis.com for the best SaaS reviews and tips to get the most out of your online business.